CRUFFLER.COM
presents
Firearms Technical Trivia, September 2001:
A Brief Collector's Guide to the
U.S. Bayonet, Model of 1905
INTRODUCTION
Bayonets in general, and American bayonets in particular, have become collectable items in their own right. Some, such as Finnish military bayonets and Soviet bayonets for the Tokarev rifle, command prices far in excess of the rifles for which they were fashioned. This new intermittent series provides fundamental information critical to collecting these historic edged weapons.

---

Image Credit: Cunningham, Gary M., American Military Bayonets of the 20th Century, (Scott A. Duff Publications, Export, Pennsylvania: 2000), Page 24
SPECIFICATIONS
| | | | |
| --- | --- | --- | --- |
| Overall Length: | 20.5" | Blade Height: | 1" |
| Blade Length: | 16" | Length of False Edge: | 5" |
| Length of True Edge: | 14.5" | Fuller Height: | .375" |
| Fuller Length: | 12" | | |
| Rifles: | M1903 Springfield, M1 Garand | | |
FIRST PRODUCTION PERIOD, 1906-1922
MAKERS AND MARKINGS
All M1905 bayonets produced between 1906 and 1922 were manufactured by Springfield Armory and Rock Island Arsenal. Markings are as shown below:

Image Credit: Cunningham, Gary M., American Military Bayonets of the 20th Century, (Scott A. Duff Publications, Export, Pennsylvania: 2000), Page 24

Springfield Armory bayonets were serial numbered starting at the beginning of production. For unknown reasons, Rock Island Arsenal did not serial number those bayonets manufactured in 1906, but started in 1907 at about serial number 80,000. Date stamps and serial numbers were not applied at the same time. In some cases, serial numbers overlap dates (I.e., a Springfield bayonet serial numbered 632429 is known with a date of 1915, while a lower number of 632363 is known dated 1916).

In 1906, Springfield used characters and numbers with serifs for the arsenal initials and date, but numbers without serifs for the serial number. This was shortly changed to non-serif for all markings. The Ordnance Shell and Flame had four flames with center lines in each flame, and a small reversed C in the center of the shell.

Rock Island used characters and numbers with serifs for most production. However, in a few cases, the serial number was stamped in numbers without serif. In 1906, Rock Island used periods following their initials (R.I.A.) but dropped the periods in 1907. Also in 1906 the Shell and Flame had four flames with no center lines and no mark in the shell. In 1907 they began using the same Shell and Flame as Springfield.

A small letter A is found on the back tang near the stud slot on most earlier production. This refers to an alteration. In 1918, Springfield Armory used an Eaglehead over a number or a letter/number inspector's mark on their bayonets. This mark normally appears on the obverse ricasso in the area of the serial number. It represents final inspection and acceptance, and was stamped after the bayonet was finished.

FINISH
Until 1917, all regular production bayonets were finished with a blued hilt and guard, and a bright polished blade. The bluing was continued a short distance up the ricasso, usually ending just under the serial number. The blades were polished to a very bright, almost mirror finish.

When the U.S. entered World War One, it was recognized that the bright blade was not suitable in combat, and the blades were blued until late 1918. By 1918 the metal was not as carefully polished before bluing, and the finish is rather dull. This is sometimes referred to by collectors as "War Finish" or "Brush Blue". Many older bayonets were called in and blued, both in the U.S. and in France. A World War One report quoted in the Springfield Research Newsletter states: "Many 1905 Bayonets were blued in France, using an Italian process."

In very late 1918, Springfield and Rock Island began to use the Parker Rust-Proof Process (commonly called Parkerizing), and this dull gray-black finish was used until the end of production in 1922. This process was also used in the rebuild and refinish programs starting in 1919, and a great number number of pre-1919 bayonets are found today fully Parkerized as a result.

Model 1905 bayonets were occasionally plated, either with nickel or chrome, mostly for use in parades and ceremonies. The following quotes are taken from the Springfield Research Newsletter.

"Inspection of the 15th Infantry troops stationed in China in 1933 revealed that all their bayonets had been plated." Unfortunately the type of plating was not identified.

"400 nickel plated M1905 bayonets were reported on hand at Fort H.G. Wright in 1937." Fort Wright was located on Fisher's Island in Long Island Sound, and it may be that the plating was experimentally done to help prevent corrosion in the salt air.

"Periodically in the Post World War Two period, quantities of Krag M1898 bayonets were overhauled and chrome plated for the USMA. Much of this work was done by Frankford Arsenal. M1905 bayonets were also chrome plated during this period. "

Unfortunately, since the grip panels can be readily removed, it is practically impossible to tell who plated a bayonet and for what purpose. It is known that some American Legion and VFW posts have had the work done commercially for their Honor Guards, and it is quite possible that other organizations such as ROTC and military schools have done the same. For that reason, unless some undeniable provenance accompanies a bayonet, no premium should be paid for a plated specimen.

GRIPS
The grips are made of walnut, with the cutter marks not sanded off. Early production had the cutter marks close together (about eleven passes of the cutter per inch) which gave a fairly smooth surface. By World War One, the cutter passes had been changed to about seven per inch, giving a much rougher appearing surface. During rebuilds, the grips were often sanded smooth, or were replaced with new grips when necessary. The grips follow the contour of the rear of the pommel, primarily to allow the pivoting catch to be easily placed in its groove. The grips are held by a single machine screw, passing through a washer in the center of the obverse grip and threading into a serrated edge nut in the reverse grip. This screw passes through a hole in the pivoting catch.

VARIATIONS
The Annual Report of Springfield Armory for the Fiscal Year ending June 30, 1908 states "In November, 1907, it was reported from the Philippine Islands that the Bayonet, Model 1905, would fall off the rifle during firing of the piece and investigation at this Armory, showed that this defect was due to faulty design of the bayonet catch A new bayonet catch was designed to overcome this defect and all bayonets in store (155, 727) have been altered. In addition, the necessary gauges, tools and fixtures together with 27,500 new model bayonet catches were fabricated and shipped to the Manila Ordnance Depot for alteration of bayonets in the Philippine Islands."

The change involved a lengthened catch hook, and required that a longer slot be rnilled in the undercut groove of the pommel. Those bayonets already completed that were modified to accept the longer hook were marked with a small capital "A" (for altered) in front of the undercut groove in the upper tang. For some reason, this stamping was continued for years after the change had been made. Springfield bayonets up to 1910 are seen with the "A", and a Rock Island dated 1913 in the author's collection is still stamped with the "A". Unmodified bayonets are quite rare.

A variation of the Model 1905 that was made in some quantity was the Bayonet, Model 1905 for Silencer Rifles. In 1910 it was directed that Model 1903 rifles fitted with the Model 1910 Maxim silencer be issued at the rate of one rifle and bayonet to each company of Infantry, Engineers, Coast Artillery, and the Signal Corps. These rifles were primarily to be used in the training of new recruits so that the noise of discharge would not cause them to flinch. This bayonet is identical to the regular Model 1905 bayonet with the exception of the upper portion of the guard. A female dovetail is machined into the bottom of the silencer, and a male dovetail into the top of the guard, replacing the regular barrel ring. The bayonet was attached to the regular stud on the rifle upper band, with the two dovetails mating. Records show 899 having been made in Fiscal 1911, 38 in Fiscal 1912, 450 in Fiscal 1913, 3,100 in Fiscal 1918, and 6,000 in Fiscal 1919. Why so many were made in 1918 and 1919 when the silencer was essentially
obsolete is not certain. One is known dated 1918 and serial numbered 863192, so apparently they were made. Most were later destroyed and they are rare today.

HISTORICAL NOTES
The Model 1903 rifle was originally manufactured with a thin rod bayonet carried as a ramrod under the barrel. President Theodore Roosevelt handled one of the new rifles issued to the guards at the White House, and broke the bayonet by striking one of the columns in front of the building. He sent a note to the Secretary of War on January 4, 1905, stating "I must say that I think the ramrod bayonet about as poor an invention as I have ever saw. As you observed, it broke off as soon as hit with even moderate violence....I would like to have the opinion of Captain March, and then the opinion of other military attaches who saw the fighting between the Russians and Japanese, about both the bayonet and the sword. I would also like to have the opinion of I any of our officers in the Philippines who have seen the bayonet actual) used."

A committee of officers was formed to evaluate various bayonets of the rod, knife and bolo patterns "in all phases as a weapon and article of equipment of a soldier". One of the items tested was essentially a Model 1892 Bayonet with the blade lengthened to 16 inches. It was marked as the Model 1892 had been with "U.S." vertically on the obverse ricasso and "1905" vertically on the reverse ricasso. The scabbard was a lengthened Model 1892 using the Model 1905 belt hook.

By April 1, this committee issued their report in favor of this knife bayonet. The final production drawing for the new bayonet is dated August 31, 1905. The blade was copied from the Model 1892, but lengthened to 16 inches to help make up the difference in "reach" of the shorter rifle. The old
horizontal acting locking catch was dropped, and a new one was adopted which was basically copied from the Norwegian Krag. Quantity production of the Model 1905 Bayonet started at both Springfield Armory and Rock Island Arsenal in 1906.

PRODUCTION DATA
The figures below are taken from the Reports of the Arsenals to the Chief of Ordnance. Unfortunately, these reports often conflict within themselves, as the totals given in the summary will differ from the amounts stated in the text. The figures given below are taken from the summary. FY stands for Fiscal Year ending on June 30th of the year shown. SA stands for Springfield Armory and RIA for Rock Island Arsenal.
Fiscal Year

Number Produced

1906
Springfield Armory: 2,100
1907
Springfield Armory: 154,467
Rock Island Armory: 80,000
1908
Springfield Armory: 144,960
Rock Island Armory: 24,702
1909
Springfield Armory: 94,542
Rock Island Armory: 26,267
1910
Springfield Armory: 42,989
Rock Island Armory: 33,850
1911
Springfield Armory: 46,207
Rock Island Armory: 22,352
1912
Springfield Armory: 36,507
Rock Island Armory: 22,664
1913
Springfield Armory: 40,159
Rock Island Armory: 18,855
1914
Springfield Armory: 31,939
Rock Island Armory: 2,000
1915
Springfield Armory: 23,309
1916
Springfield Armory: 15,649
1917
Springfield Armory: 55,198
Rock Island Armory: 400
1918
Springfield Armory: 131,734
Rock Island Armory: 36,500
1919
Springfield Armory: 179,900
Rock Island Armory: 91,100
1920
Springfield Armory: 70,134
Rock Island Armory: 99,500
1921
Springfield Armory: 28,704
1922
Springfield Armory: 15,110

| | | |
| --- | --- | --- |
| Year | Springfield Armory Serial Number Range | Rock Island Armory Serial Number Range |
| 1906 | 0 - 190,000 | Not Serial Numbered |
| 1907 | 190,000 - 240,000 | 80,000 - 120,000 |
| 1908 | 240,000 - 355,000 | 120,000 - 140,000 |
| 1909 | 355,000 - 432,000 | 140,000 - 170,000 |
| 1910 | 432,000 - 475,000 | 170,000 - 192,000 |
| 1911 | 475,000 - 510,000 | 192,000 - 220,000 |
| 1912 | 510,000 - 550,000 | 220,000 - 236,000 |
| 1913 | 550,000 - 585,000 | 236,000 - 247,000 |
| 1914 | 585,000 - 608,000 | |
| 1915 | 608,000 - 633,000 | |
| 1916 | 633,000 - 653,000 | |
| 1917 | 653,000 - 765,000 | 247,000 - 304,000 |
| 1918 | 765,000 - 1,050,000 | 304,000 - 404,000 |
| 1919 | 1,050,000 - 1,125,000 | 404,000 - 430,000 |
| 1920 | 1,125,000 - 1,170,000 | |
| 1921 | 1,170,000 - 1,192,000 | |
| 1922 | 1,192,000 - 1,196,000 | |
SECOND PRODUCTION PERIOD, 1942 - 1943


Image Credit: Cunningham, Gary M., American Military Bayonets of the 20th Century, (Scott A. Duff Publications, Export, Pennsylvania: 2000), Page 48
MAKERS AND MARKINGS
Production of the M1905 was resumed during World War Two. This bayonet was manufactured by six contractors during this time. They are marked vertically on the reverse ricasso as shown below. All makers can be found dated both 1942 and 1943. Very rarely an example will be found without a date. This happened in April 1943 when the changeover was made to the M1 Bayonet, which was not dated.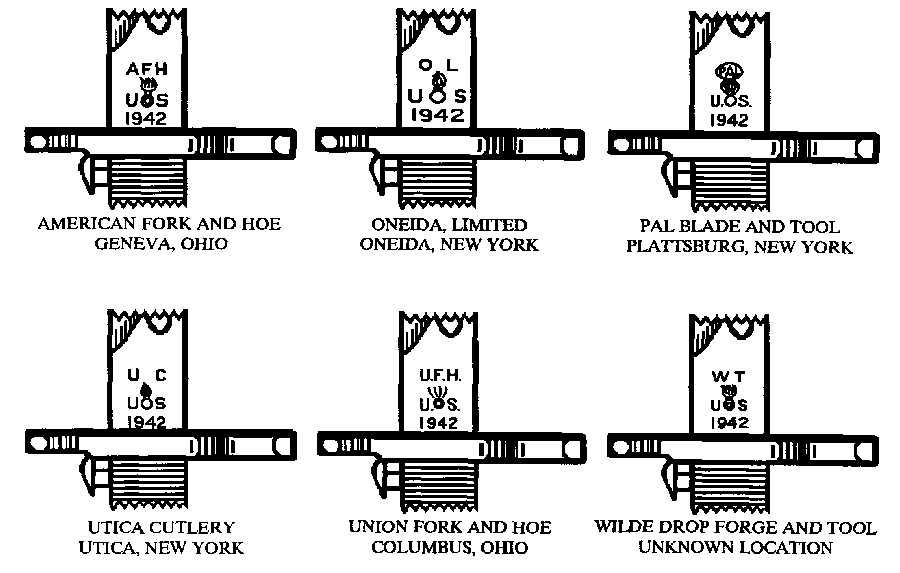 Image Credit: Cunningham, Gary M., American Military Bayonets of the 20th Century, (Scott A. Duff Publications, Export, Pennsylvania: 2000), Page 48

Inspector's reports on visits to facilities indicate that the Pal Blade Company plant was in Holyoke, Massachusetts and the American Fork and Hoe facility was in Ashtabula, Ohio. The locations normally shown on the ricasso markings may be the company headquarters, while the plant producing the bayonet was possibly located elsewhere. Markings vary considerably from maker to maker, especially in the design of the Ordnance Shell and Flame. In some cases, the date is nearly obscured by the guard.

The Ordnance acceptance mark shown here has been noted on the obverse ricasso of & bayonets manufactured by Utica Cutlery and Oneida, Limited.

FINISH
All World War Two contract production M1905 bayonets had the metal fully parkerized. The color varies considerably between makers, and is often mottled and uneven. Due to later refinishes, it is often difficult to determine if the finish is original.

GRIPS
The grips used during this period are made of bakelite plastic, normally black but rarely a dark red-brown. A brown version with rectangular black panels in the center have also been observed. All have very fine vertical grooves on the entire outer surface. Two makers marks for the black grips have been observed. One is marked with a circle enclosing an interlocked AB with a number underneath. The second is a circle enclosing an N over LOC over R with a number underneath. Only a limited number of the red-brown grips have been checked for marks. Some are marked with the interlocked AB and number underneath, others are marked PP, while the ones with the black rectangle are unmarked.

References indicate that the grips were normally made of Grade B, SXS-103 Phenolic plastic (similar to Bakelite). Cellulose Acetate Butyrate was tested and approved as an alternative grip material, but field experience found that this material was softened or dissolved by the Trichlorethylene degreaser used to strip the grease that the bayonets were packed in for shipment or storage. About 100,000 of these grips were made before discontinuance due to this problem.

VARIATIONS
Experiments at Springfield Armory and by many of the contractors led to changes in the way the bayonet was manufactured. These included new ways to forge and coin the pommel, stamping out the guard, stamping instead of forging the blade, and rapid hot rolling of the blade. Each maker was encouraged to develop their own system to speed manufacture as long as the finished product met specifications. Although parts remained interchangeable with earlier production, there are a number of visible differences in the bayonets produced in 1942 and 1943.
1. On most 1942-43 production, the pommel under the undercut groove is not "stepped" down to a shoulder as was done by Springfield and Rock Island, but goes directly inward to the tang web. This is not visible unless the grips are removed. The plastic grips do have a relief cut for the shoulder so that they may be used on the earlier bayonets.
2. The interior of the barrel hole in the guard is countersunk from each side. There is some question as to whether this was done to simplify manufacture, or to make it easier to fit the ring over the barrel.

3. The catch is stamped rather than milled, and does not have the wider hook section where it meets the stud on the upper band of the rifle. An inspector's report dated December 1O, 1942 mentions inspection of the new stamped catches at Pal Blade and Tool, indicating that earlier production at that facility, and possibly the others, used milled catches.
4. The top flat of the pommel on specimens made by U.F.H. is noticeably wider than that of the other makers.
HISTORICAL NOTES
During the 1920s, the nomenclature of the Bayonet, Model of 1905 was simplified to Bayonet, M1905. Although collectors often call the M1905 bayonets made on contract in 1942 and 1943 the Model 1942, the Ordnance Department made no such distinction and carried all production whether 1906-1922 or 1942-1943 on the books as the M1905.

The 1939 inventory of bayonets on hand showed that there were 581,000 serviceable Model 1905 bayonets in storage. This number did not include those in the hands of troops. When the U.S. mobilized the National Guard for training in 1941, it was obvious that the supply of bayonets would be inadequate in case of war. In August 1941 contracts were issued to three companies to produce the M1905 bayonet. These companies were chosen based on their ability to get into production quickly and with little addition of machinery. These companies were (with the original number contracted for in parentheses): Union Fork and Hoe Company (440,336), Utica Cutlery Company (200,000) and Wilde Drop Forge and Tool Company (60,000).

M.H. Cole shows Wilde Drop Forge and Tool to be located somewhere in New Jersey, However, the Project Supporting Paper on Bayonets, Knives, and Scabbards shows them to be in the St. Louis Ordnance District, so they were apparently located somewhere in the midwest. Shortly afterward, contracts were given to three more companies: American Fork and Hoe Company (200,000), Oneida, Limited (100,000) and Pal Blade and Tool Company (200,000). Deliveries from all six companies were supposed to begin in early 1942. All six contractors had a great deal of difficulty getting into full production due to a critical shortage of steel and non-delivery of necessary gauges and fixtures. Production schedules were not met, and it was July 1942 before all six contractors were making deliveries.

By February 1943, production had reached a level such that the Ordnance Department was able to plan on cutting back deliveries. The excess production capacity was to be held as a reserve against future requirements or for trench knife production. The new schedule was:


| | | |
| --- | --- | --- |
| Contractor | February 1943 | March 1943 |
| Union Fork and Hoe | 55.000 | 31,000 |
| American Fork and Hoe | 50,000 | 28,200 |
| Pal Blade and Tool | 40,000 | 22,500 |
| Oneida, Limited | 30,000 | 17,000 |
| Utica Cutlery | 30,000 | 20,000 |
| Wilde Drop Forge and Tool | 12,500 | 0 |
Production of the M1905 ceased during April and May of 1943 as production of the new M1 Bayonet was phased in. Ordnance records show delivery of 1,540,578, but does not break this number down by company. As the original amount contracted for was 1,200,336, it can be seen that total deliveries did not greatly exceed the original contract amounts.

Monthly Production Figures for M1905 Bayonets During World War II

1942

1943

April

82

January

189,559

May

3,242

February

228,772

June

15,787

March

197,751

July

31,413

April

96,632

August

60,625

May

4,300

September

124,019

October

171,986

November

204,666

December

209,741

Total:
1,540,578
Total Contractor Production Figures

American Fork and Hoe

400,000

Oneida Limited

150,000

Pal Blade and Tool Company

210,000

Utica Cutlery

200,000

Union Fork and Hoe

430,000

Wilde Drop Forge and Tool

60,000
Note: Data for this month's trivia page was gathered from:
Cunningham, Gary M., American Military Bayonets of the 20th Century, (Scott A. Duff Publications, Export, Pennsylvania: 2000)
American Military Bayonets of the 20th Century may be ordered directly from Scott A. Duff Publications. Click on the image to order.