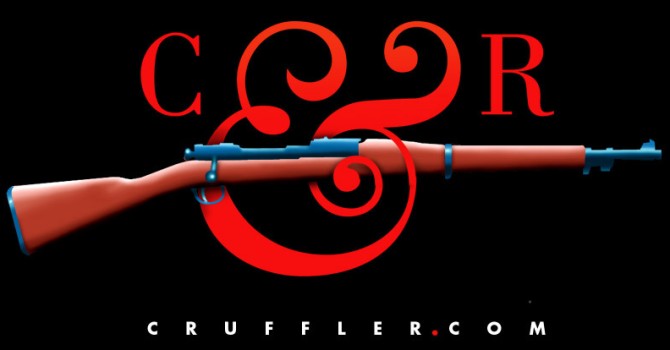 presents
USGI Contract M16 Magazines
CRUFFLER.COM now receives regular shipments of used, USGI contract M16 20 and 30 round magazines. If you are in search of these magazines for your AR-15/M16 variant, FNC, or any other firearm that uses them, you've come to the right place. Let's get the basics taken care of first:
CONTRACTORS: All contractors are represented (with the exception that Colt magazines tend to be significantly under-represented). We generally fill orders by the "luck of the draw," but if you have special wants, we will try to accomodate you - no guarantees though.
CONDITION: These magazines have spent most of their lives being lugged about in GI magazine pouches. As a result, finish can vary from 0% to 90%. Consequently we make no guarantees with respect to finish. Our only guarantee is that the magazines you receive will feed and function, and be free from critical damage such as cracked feed lips and body dings that prevent the follower from moving freely inside the magazine.
WARRANTY: We make no warranties about these magazines except for the following: If you receive a magazine from us that is unserviceable (not ugly!), send it back to us, and we will overnight you a either a replacement or a refund - your choice. We reserve the right to test returned magazines to determine serviceability.
| | |
| --- | --- |
| VG - EXC 30 Round Magazines: | $17.00 each |
| G 30 Round Magazines: | $15.00 each |
| 20 Round Magazines: | $16.50 each |
SHIPPING: $4 for 1 - 3 magazines, $6 for 4- 6 magazines, free for orders of 7 or more magazines. All shipments are made using United States Postal Service Priority Mail with Delivery Confirmation.
RESTRICTED STATES: We cannot ship these magazines to states where high capacity magazines are restricted. Sorry!
If you wish to place an order for some magazines send an email to:
In the email, specify the number of magazines you wish to purchase, your name, address, and phone number. We will reply with an indication as to whether your magazines are in stock. This additional step is necessary because of the rapidity with which these magazines sell.
Once notified that your magazines are in stock, you may pay by check, money order, or PayPal. If you elect to use PayPal, please use the shopping cart service below. If you choose to use check or money order, please email us for payment instructions.

VG - EXC 30 Round Magazines @ $17.00

30 Round Magazines @ $15.00

20 Round Magazines @ $16.50