CRUFFLER.COM
presents
Book Review, February 2000:
Military Rifles of Japan (Fifth Edition)
by Fred L. Honeycutt, Jr., and F. Patt Anthony
Julin Books, 1996 Hardcover, 207 pages
ISBN 0-9623208-7-0

Review by Noel Tominack
Japanese military rifles might be seen as the Rodney Dangerfields of Curio or Relic bolt action military rifles in that "they don't get no respect." There are several factors that distinguish them from their contemporaries, the Mausers, the Enfields, and the the Mosin-Nagants, to name the most prolific. They rifles have not been imported en masse into the U.S. There is no readily available supply of inexpensive surplus ammunition. Additionally, they have an unearned reputation for weak actions of poor quality. Take all this, and the general lack of knowledge about Japanese rifles, into account, and its easy to see why most collectors prefer to focus on Mauser variants, Enfields, and Mosin-Nagants.
Fred Honeycutt's book, Military Rifles of Japan is designed to help the collector recognize and appreciate these often overlooked military rifles. Military Rifles of Japan begins with an extensive overview of the Japanese arsenal system that details the various arsenals and their facilities. This is followed by other sections that enable the reader to understand various markings encountered on Japanese firearms and their meaning. This includes the Kana alphabet used as series prefixes on Arisaka rifles, Kanji numbers used to designate a model/type, and a listing of all proofmarks by arsenal and factory.
Every Japanese rifle type used by the Japanese military from 1880 to 1945 is covered in detail: From the single-shot, black-powder Murata Pattern to the various Arisaka models, each is listed in chronological order. For every rifle, Honeycutt provides an introduction outlining the development, manufacture, and general production information. Following is a detailed description of each rifle by major variant, or series character. The description indicates the rifle's key features, and comments on those particular to the rifle. In addition to the detailed textual information are are photographs of the left side of the receiver (where the key markings are located) and an exemplar photograph of the entire rifle. Interspersed throughout these description pages are photographs and/or line drawings that both illustrate changes in parts and/or production techniques, and show the rifles in use.
Military Rifles of Japan delves into more than just the standard-issue military rifles. It also covers sniper and paratroop versions, foreign rifles used by Japan during World War Two, rifles manufactured by Japan under foreign contracts, so called "last-ditch" rifles, training rifles, and postwar reworks of Arisaka rifles into other calibers. Additionally, the book provides a very extensive write-up on the Japanese experimental semi-automatic rifle program accompanied by dozens of photographs of these rare firearms.
Military Rifles of Japan also discusses the various accessories issued with the rifles. Items such as dust covers, monopods, muzzle caps, slings, cleaning rods, cleaning kits, all receive some attention. There is extensive and exhaustive coverage of grenade launchers, bayonets, and ammunition for all the rifles included in the book.
Honeycutt enlisted an amazing group of contributors, including fellow collectors, authorities on Japanese arms design from both Japan and the U.S., and even personnel who were employed at the factories where these rifles were manufactured. It is a testament to Honeycutt's eloquence that he was able to distill volumes of information from various sources into a single, comprehensive, easy-to-understand book. Indeed, the book is a must-have for anyone with more than a passing interest in these rifles "that don't get no respect," but should.

Military Rifles of Japan is available from IDSA Books. Click on the image to order: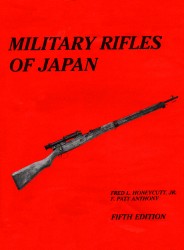 Noel Tominack is a noted collector of and authority on Second World War Japanese militaria and anime. He can be contacted at: noel@cruffler.com